Houston, Texas
June 27th-July 1st 
"This Changes Everything"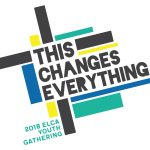 Every three years, 30,000 high school youth and their adult leaders from across the Evangelical Lutheran Church in America gather for a week of faith formation known as the ELCA Youth Gathering. Through days spent in interactive learning, worship, Bible study, service and fellowship, young people grow in faith and are challenged and inspired to live their faith in their daily lives. The theme for this year's Gathering is This Changes Everything, and will focus on Ephesians 2:8, "For by grace you have been saved by faith, and this is not your own doing; it is the gift of God."
This year a group of about a dozen high school youth from University Lutheran Church of Hope will make their way to Houston to participate in the ELCA Youth Gathering, and we need your help to make this possible.
We need to raise at least $6,000 by May of 2018 to make this trip happen. Can you help us reach that goal?
You can donate by CLICKING HERE and entering your donation on the line titled "Youth". You can also send donations to the church office, or place a check in the offering plate. Your donation will allow this incredible group to deepen their faith, to serve their neighbor, and to have to have a great time together! Thank you!