2019 Day Camp: Come to the Table!
June 17-21, 9am-4pm
South Minneapolis day camp is a progressive ecumenical summer day camp experience offering faith formation in a fun, safe, Christ-centered and relational setting. A dozen or more congregations come together to lead and support this day camp. Our theme this year is "Come to the Table." We will explore food justice, creation care, radical welcome, communion, and being part of a global community as we play, pray, make art, sing, and learn together!
Dates: June 17-21, from 9:00 a.m. to 4:00 p.m. each day
Ages: Entering K through entering 8th grade (separate tracks for elementary and middle schoolers)
Where: Bethel Lutheran Church, 4120 17th Ave S, Minneapolis
Volunteers: High school and adult volunteers needed
Registration forms: Available at church and on our website.
Questions: Talk with Nick Tangen, Intern Linqing, or Pastor Jen.
---
Holy Ground: Community Organizing Camp
August 12th-16th 5:30pm-7:30pm
University Lutheran Church of Hope
Grades K-5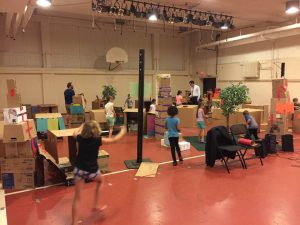 "Holy Ground: Community Organizing Camp" provides an opportunity for children to learn the basics of faith-based community organizing through play, strategy, and story-telling.
Students build their own neighborhood out of cardboard boxes and learn about what makes a neighborhood flourish while gathering for singing, conversation, and creativity. Throughout the week an issue will confront the neighborhood and the students will need to strategize, build power, and seek a solution to protect their community. We will explore the ways in which Jesus' ministry, grounded in love, was able to transform communities and Each night will begin with a shared meal, storytelling, and singing.
"Holy Ground: Community Organizing Camp" is for students in Kindergarten-5th Grade.
We're committed to ensuring that participation in Holy Ground is accessible for all families. Please consider what is affordable for your family and click here to contribute anywhere between $0-30 per child to cover expenses for the week. Click on "Give" in the navigation and select "other" for the fund, and note "Holy Ground" in the space provided.
Join us as we build power and transform our communities!