University Lutheran Church of Hope offers recreation opportunities throughout the year. See full list below.
Our outdoor recreation ministry is looking forward to camping and paddling June 15-17. Come for a few hours or the entire three days. We have secured a group campsite at a great location.
Camping and Paddling at William O'Brien State Park June 15th-17th
Here are the exciting details:


At Wm O'Brien St Park we've reserved a group campsite for up to 35 people. This park is less than an hour from the metro area.

It will be on the nights of June 15 & 16……come one or both nights. Camping fee is paid for by ULCH. Contact Bryan to reserve a spot. The campsite is on the banks of the St. Croix River
The plan is for two paddling events … a standard 2 -3 hour trip from Osceola to Wm O'Brien Friday morning. This is new scenery but the same easy degree of difficulty as in past years. Boats are available for rental. Instructions for renting boats to follow later.
There will be an additional longer trip for those interested in arriving Thursday night or Friday morning. It will either start or end at Wm O'Brien State Park. It's an exciting option.
For anyone interested there's also great hiking and biking options in this park and vicinity 
Those interested in RV camping may call the MN DNR camping reservation line for other site options.
Informal campsite meals Thursday supper through Saturday breakfast.
Group restaurant meal or picnic at the park Saturday afternoon.
Itinerary
Google plus code for Riverside Group Camp 66FV+C7 Scandia, Minnesota
Thursday camping anytime after 4:00 at Riverside Group Campground Wm O'Brien State Park. This might be available earlier.
Thursday evening campsite meal. 6:30 or 7:00. Bring your own food etc.
Friday paddling meeting at group campsite 8:30 am Friday…..self shuttle set up and then paddling starts 9:30. Route is from Osceola bridge landing to Wm O'Brien
Friday picnic lunch tbd.
Friday supper at Riverside Group Camp 6:30 or 7:00 pm. Bring your own food. I have one small grill to share; bring another grill if you have one.
Saturday paddling meeting 9:00 am at Interstate State Park in Taylor's Fall's MN. Meet at Taylor's Falls Canoe and Kayak. Route is Taylor's Falls to Osceola Bridge.
Paddling instructional demonstration 9:15-9:30 at the canoe rental by Alden Tetlie.
1:00 picnic at Wm O'Brien State Park lower parking area. Look for HOPE Picnic signs on top of red pickup truck in lower parking lot. I will have one small grill to share. Another grill would be welcome.
Locator for Saturday picnic 669R+JG Scandia, Minnesota
• If you're interested and have questions more talk to or message Bryan Kufus. 
Women's Retreat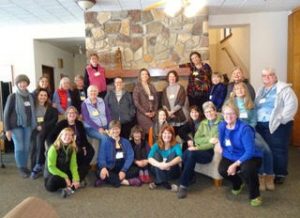 Women's Retreat, January 27-29, 2023
Theme: Journey Inward, Journey Outward
REGISTRATION BEGINS December 4th; DEADLINE January 8th
Click Here for the registration form or look in the next Visitor newsletter.
Cost is $42 for Sat morning only, up to $285 for Friday-Sunday and 5 meals. This price applies only if we can guarantee 20 people.
Because the retreat will be in person AND we are unsure of how many people will feel comfortable attending, it will be very helpful for people to sign up well before the deadline. You can also sign up and register at church on Sundays.
Questions? Ann Beane, spirit.beane@gmail.com 651-245-8226 or Beáta Rydeen, beatarydeen@comcast.net 612-840-9263
---