University Lutheran Church of Hope offers recreation opportunities regularly throughout the year. For a full list of 2022 recreation activities, see the downloadable PDF below. Check out our next activity right here!
Click here to download all 2022 ULCH Outdoor Recreation Activities
Questions about ULCH Outdoor Recreation Activities? Contact Bryan Kufus bkufus462@icloud.com
Women's Retreat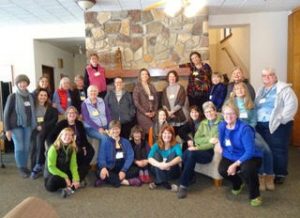 Women's Retreat, January 27-29, 2023
Theme: Journey Inward, Journey Outward
REGISTRATION BEGINS December 4th; DEADLINE January 8th
Click Here for the registration form or look in the next Visitor newsletter.
Cost is $42 for Sat morning only, up to $285 for Friday-Sunday and 5 meals. This price applies only if we can guarantee 20 people.
Because the retreat will be in person AND we are unsure of how many people will feel comfortable attending, it will be very helpful for people to sign up well before the deadline. You can also sign up and register at church on Sundays.
Questions? Ann Beane, spirit.beane@gmail.com 651-245-8226 or Beáta Rydeen, beatarydeen@comcast.net 612-840-9263
---