Hiking, Biking, Paddling and Camping
University Lutheran Church of Hope offers opportunities to go camping and paddling regularly throughout the summer and fall. Keep an eye on this page for upcoming recreation activity dates!
Saturday May 8th, 2021 10 am – Hiking at Murphy-Hanrehan Park Reserve
Meet at the trailhead building. We will hike then eat a picnic lunch at the park. Bring chairs or a picnic blanket and your own food. A treat will be provided. Click Here for directions.
This has become a favorite hiking place! The peaceful wilderness at Murphy-Hanrehan Park Reserve in northeast Scott County features glacial ridges, hilly terrain and an extensive, lush forest. With the exception of the trails, the park reserve remains undeveloped, making it the best park in Three Rivers for birdwatchers to spot woodland songbirds. This park has also been designated an Important Bird Area by the National Audubon Society.
Contact Ann Beane at spirit.beane@gmail.com.
Upcoming Events: 
6/17 to 6/18 Camp at William O'Brian State Park
7/17 Bike at Dakota Rail Trail
8/14 Kayak on White Bear Lake
8/22 Hike/walk at Battle Creek Regional Park
Women's Retreat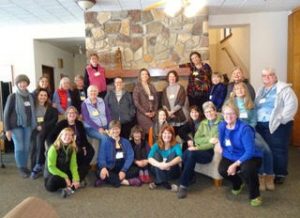 Save the Date: January 28-30 2022 at Dunrovin Retreat Center. All ULCH women and friends of any age are invited to join us for our annual Women's Retreat. There is plenty of time for crafting, hiking, and relaxing as well as some structured time for reflection and fellowship.
---
Questions? Contact Deb Bordsen hrvestmoon@gmail.com or Bryan Kufus bkufus462@icloud.com.