The University Lutheran Church of Hope youth program is committed to providing a safe environment where youth can grow in a greater understanding of their faith. Together we explore scripture, the Lutheran tradition, our call as Christians, and community building centered in the Gospel of Jesus. We ask lots of questions, and invite the challenging ones for discussion.
Youth Group Gatherings 2018-2019
Sunday Morning Youth Group
1st and 3rd Sundays 9:15-10:25am
Middle school and high school youth gather on the 1st and 3rd Sundays of the month to check in with one another, explore the gospel text, and engage with spiritual practices like Centering Prayer, lectio divina, and yoga.
On the 1st Sunday of the month the group meets in the Youth Room. 
On the 3rd Sunday of the month the group meets at the Purple Onion in Dinkytown.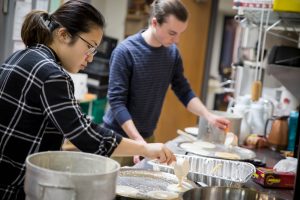 Four Pillars of Youth Ministry
Youth Ministry at University Lutheran Church of Hope centers on four pillars:
1. Faith Development: encouraging a faith journey of exploration, learning, questioning, and experiencing God in our daily lives.
2. Community Building: building relationships with our faith community, not only with those who are the same age, and exploring what it means to live in Christian community.
3. Service: serving our church, community, and the world with our resources, our time, and our whole selves. We also understand that service looks different in different contexts, and is not synonymous with charity.
4. Leadership: empowering youth to become energetic Christ-centered leaders unafraid to ask questions, analyze relationships of power, and make a difference.