Wood-Fired Bread Baking is Back February 18!
NEXT BREAD BAKE IS Feb 16-18
Fresh baked wood-fired loaves of artisan bread will be available for your gastronmic pleasure on Sunday November 14. Send your request to John Bablitch (mplsjfb@gmail.com).
Please consider requesting an extra loaf or two, which you could offer to a neighbor, a friend, a stranger. Help Hope expand our porous walls. We encourage you to reserve your loaf, though breads will be available on a first come first serve basis until we run out.
Last month we found a home for nearly 70 loaves, with a special emphasis on getting bread to Hope and nearby community members in need, as well as to Portland house, an alternative to incarceration. (Special thanks to Pastoral Intern Emily Brown and Minister of Community Engagement Elise Carlson – both of whom helped with the special distribution of the loaves. The donations – both big and small – which out put into our basket in the coffee lounge Artisan Bread Sundays help us have an impact on the community, in some cases addressing food insecurity.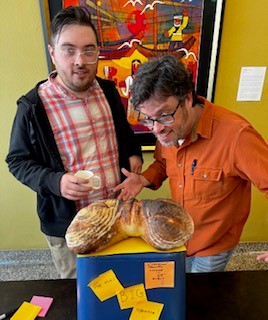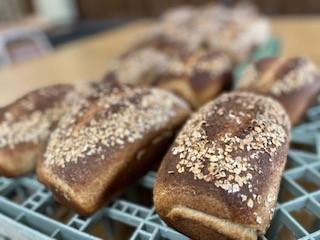 OCTOBER 14-16 Bread Bake a Success!
Thanks to all who were able to volunteer for the October bread bake! We hit our goal of baking 72 loaves / 4 wood-fired bake cycles of artisan bread. And we again threw in a couple of batches of yummy Lemon Poppy Seed Scones as well. The atmosphere on Sunday morning Oct. 9th in the lounge was like the old days, where many folks stopped by, and gathered, and shared. Lots of encouraging words, and lots of compliments about our baked goods from members. We so appreciate the support from the congregation. Your donations totaled $503 in free will offerings, the first time we've exceeded $500 since pre-pandemic days. We donated loaves to the Portland House (an alternative to incarceration), while Elise Carlson – Minister of Community Engagement, and Pastoral Intern Emily Brown worked together to distribute fresh baked loaves to members within our community and outside of Hope's porous walls.
-John Bablitch
The loaves will go quickly, so it's recommended that you reserve your loaf now. Just email John Bablitch (mplsjfb@gmail.com) with your request and number of loaves desired. Loaves will be available for pick up in the Lounge the morning of October 9th. Reserved loaves will be set aside, and remaining loaves will be available on a first come, first served basis. As a bonus for bakery aficionados, yummy scones will be available as well! Donations are gladly accepted, with the funds going to cover baking expenses, subsidizing pizza events, as well as contributions to the Nutritious U Food Pantry at the University of Minnesota.
Wood Fired Oven: 12-Month Bread and Pizza Bake Event Schedule June 2022 – May 2023
Bread Bakes are scheduled for the 2nd Saturday of the month of the academic year between October and May, with a break in December. Pizza Bakes are held once a month in the summer aligning with Outdoor Worship Sundays – bookended by a Welcome Back LCM Students event in September; and in May – marking the end of regular programming for Sunday School and Adult Forums. Please note that Oven Baking Events are subject to date change or cancellation due to Covid concerns, inclement weather, or church facility scheduling conflicts. Event updates are listed in the Weekly Epistle.
| | | |
| --- | --- | --- |
| Date | Type | Notes |
| 6/12/22 | Pizza | Supporting the Green Team's Solstice Celebration |
| 7/17/22 | Pizza | – |
| 8/14 or 8/28/22 | Pizza | Final Date TBD |
| 9/18/22 | Pizza | Supporting Welcome Back Lutheran Campus Ministry Student Program (tentative) |
| 10/8/22 | Bread | – |
| 11/12/22 | Bread | – |
| December, 2022 | No baking event scheduled | – |
| 1/14/23 | Bread | -Cancelled |
| 2/18/23 | Bread | – |
| 3/11/23 | Bread | – |
| 4/2/23 | Bread | 1st Saturday-Palm Sunday, as the 2nd Saturday is Easter. |
| 5/20/23 | Bread | End of Hope Sunday School and Adult Forum programming for the academic year. |
While the bread donations cover our baking expenses, please know that a portion of your free will offering is directed to our neighbors and friends in the community. Our current focus is "Nutritious U," the food bank at the University of Minnesota, whose mission is to help students who experience food insecurity.
Curious about how the bread team operates? Want to Volunteer? Are you interested to learn more about the centuries old craft of artisan bread making? We are always looking for Hope members to fill various volunteer roles. Contact John Bablitch (mplsjfb@gmail.com) or Bryan Kufus (bkufus462@icloud.com) for more information.
Construction has begun on ULCH's Community Bread Oven! Here is a note about the oven from John Bablitch, Community Oven Feasibility Study Member:
In just a couple of months, the Community Oven Feasibility Study project team has discovered that there is a groundswell of support for a potential wood-fired, masonry oven (also referred to as a Community Oven) at ULCH. As a result, our project team has been active, reaching out to bread ministry resources, and creating events to help ULCH members get engaged in a potential bread (and pizza!) ministry at ULCH. We are getting educated, as well, thanks to the guidance/membership of Mike Faust and other members of White Bear Lake United Methodist Church (WBL UMC). They have taken us under their wings, and shared with us a wealth of inside information they have gleaned from doing a Community Oven bread ministry since 2010. The lessons learned that they have shared are invaluable. They are encouraging of our efforts and want us to succeed at building our own Community Oven. To date, they have helped about 10 churches/organizations build a Community Oven, and would like to see ULCH become part of this growing movement in the Twin Cities.
Artisan breads are crafted by hand, contain no preservatives, and are known for rich flavors due to the fermentation process and other baking techniques handed down through the centuries. Generally the crust is crunchy, while the interior or "crumb" of the loaf has a chewy, rich texture. Flavors and taste are enhanced when the loaves are baked in a wood-fired oven.