The University Lutheran Church of Hope youth program is committed to providing a safe environment wherein youth can grow in greater understanding of their faith in Christ Jesus through scriptural study, theological reflection, community, leadership, and service. We consider ourselves to be a thoughtful church in a complex world, and this is evident in our youth program. We create an environment where questions are encouraged, experiences are integral, and the Gospel is central.
Come share your stories.
Education:
Sunday Morning Youth Group
Sundays 9:15-10:25am
Both confirmation and high school age youth meet in the Youth Room with adult leaders. Each Sunday the youth group takes time to pray, dwell in scripture, reflect, rest, and play.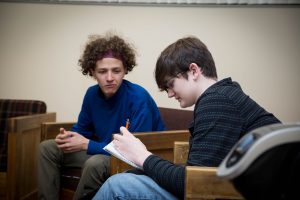 Programming
Programming for the youth program at the University Lutheran Church of Hope centers on four pillars:
1. Faith Development: encouraging a faith journey of exploring, learning, questioning, and experiencing God continues.
2. Community Building: building relationships with people our own age as well and all those in the church.
3. Service: serving our church, community, and the world.
4. Leadership: empowering youth to become energetic Christ-centered leaders unafraid to ask questions and make a difference.