We journey together again into the season of Lent. The whole cycle of the church year and the pattern of liturgy we manifest as a body in worship is both intimately familiar and ever new. Advent crescendos to Christmas, Epiphany sparkles, and then we stretch into the long months of cold hush in ordinary time after Epiphany. Lent may seem like more of the same, but it in essence embodies a turning. What has long been dormant begins to stir. The days lengthen. On the surface, we may not see change. But our hidden places and innermost parts feel this stir and call us to wonder.
"Lord, remember us in your kingdom and make us bold to pray…" This Lenten season, we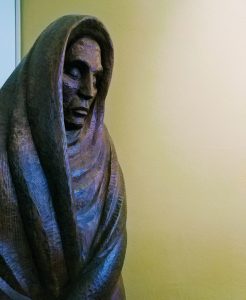 will embrace this sense of familiarity and newness in our worship life together. We will draw our focus to perhaps the most familiar element of our liturgy: the Lord's Prayer. Each Sunday, we will isolate a line of the prayer, using it to center and guide our worship.  We will move the fabulous wooden sculpture  by John Rood long housed in the lounge, Praying Mother, into the sanctuary to help us contemplate boldness in prayer. We will learn and sing a brand new setting of the Lord's Prayer, written recently by former member Jacob Nordman specifically for us and dedicated to us. His setting begins, "Our Creator, Our Mother, Our Father…" At the end of the season, the Wednesday before Holy Week, the choir and instrumentalists from the community will present a setting of the Lord's Prayer by J.S. Bach, compiled and arranged for us by John Setterlund.
Using these hallowed and familiar words, we will dare to stretch ourselves and find deeper meaning in preparation for the profound feast and celebration of Easter at the very heart of our faith.
Sundays in Lent
Worship as normal – 8:30 and 10:30 services, with this pattern for focus:
Lent 1 – "Our Creator, Our Mother, Our Father in Heaven, hallowed be your name"
Lent 2 – "Your kingdom come, your will be done on earth as it is in heaven"
Lent 3 – "Give us this day our daily bread"
Lent 4 – "Forgive us our sins as we forgive those who sin against us"
Lent 5 – "Save us from the time of trial and deliver us from evil"
Palm Sunday – "For the kingdom, the power, and the glory are yours, now and forever"
Wednesdays in Lent
March 6 – Ash Wednesday – services at Noon and 7pm in the sanctuary. No meals.
March 13, 20, 27 – service at noon with soup lunch after. 6:15pm "BYOS" (Bring Your Own Supper) in the lounge. Evening Prayer service at 7 in the sanctuary.
April 10 – Bach Cantata Evening Prayer at 7pm in the sanctuary with Hope Choir and instrumentalists.
Holy Week
Palm Sunday (April 14) – Worship at 8:30, beginning in the lounge. Worship at 10:30 begins outside at the base of the bell tower, corner of 6th St & 13th Ave.
Wednesday, April 17 – No noon service or Evening Prayer
Maundy Thursday (April 18) – Services at Noon and 7pm, including footwashing.
Good Friday (April 19) – Services at Noon and 7pm, including procession of the cross and reading of the passion.
Easter Vigil (April 20) – Service at 7pm including lighting the new fire, storytelling, and holy communion.
Easter Sunday (April 21) – Festival services at 8:30 and 10:30 including brass.
Hand drumming will also punctuate our worship between now and Easter, as a group of a dozen or so folks has begun meeting weekly on Sundays after worship. Consider whether you'd like to participate in our writing/creating project for the Easter Devotional Book and contact me (zachb@ulch.org) if you'd like to sign up as a creator, providing a written piece about 250-500 words, a visual art or other creative piece based on assigned scripture – the possibilities are rich.
Lord's Prayer for Lent 2019
Stations of the Cross: Jesus at the Border
During Lent you are invited to pray the stations of the cross in the sanctuary before evening Lenten worship on Wednesday evenings or whenever the sanctuary is open. The artwork for these stations come from artist/theologian Mary Button.
From Mary Button's Website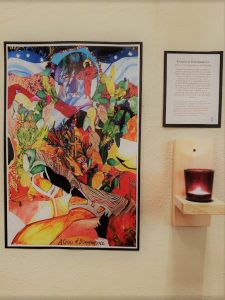 Jesus at the Border is an exploration of migrant journeys to the U.S./Mexico border. Humanitarian aid groups estimate that tens of thousands of migrants have disappeared in the desert wilderness north of the border. The group Humane Borders has documented the deaths of more than 2,100 migrants in the last twenty years in Pima County alone. While illegal border crossings are at an all-time low, deaths and disappearances of migrants along the Southern border of the United States persists. As racist rhetoric about walls and steel slat fences grows louder and louder, the stories of people making the perilous journey to the U.S. are all but silenced. Jesus at the Border attempts to lift up the human stories of migration as an antidote and counter-narrative to the criminalization of migration.